Sudbury MA Dentist - About Dr. Janice Spada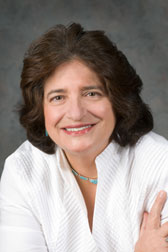 Dr. Spada has been a practicing dentist since 1982. She has been creating beautiful, healthy smiles in her Sudbury practice for over twenty-five years.
Dr. Spada is a 1982 graduate from Boston University School of Graduate Dentistry. She graduated magna cum laude from Boston College with a B.S. in Biology in 1978. She has been a sole proprietor of her practice since October 1987.
Dr. Spada has volunteered her time to the Mac Van which provides dental care in Massachusetts to underserved communities. She provides educational presentations to local groups.
She enjoys golf, fishing, photography. She follows her passion in Theater. She enjoys creating smiles during the day as a dentist and smiles in the evening when performing with Calliope Productions,Theatre III, Framingham Community Theater and Worcester County Light Opera Company.
Beyond having exceptional credentials, Dr. Spada is warm and caring while relating well to people of all ages.
Dear Dr. Spada,

When all my decades - old fillings began to break down and take my teeth with them, how grateful, and fortunate, I was to find my way to you. Though it took many months of repair work, it was always a great comfort knowing I was in your very skilled hands. I continue to receive the best possible care from you and your wonderful staff. Thank you for giving me back my smile!

Sincerely,
Linda L.
Hi Doc

Besides the fact that i think you are an absolutely wonderful person. We can add something else to the list. You are the best dentist i have ever had. The big test was the novocain shot. I didn't feel any agony or pain. I also truly believe that you really care about your patients. I was so relaxed today.

Thank you,
Barney K.
Professional organizations:
American Dental Association
Academy of General Dentistry
American Academy of Cosmetic Dentistry
Sudbury Chamber Of Commerce
Massachusetts Dental Society
American Association of Women Dentists
New England Academy of Cosmetic Dentistry
Massachusetts Association Of Women Dentist
Board of Visitors for Summit Montessori School
Spears Faculty Club
Organizational Leadership Positions:
2011 Yankee Dental Congress Program Committee Co-Chair
2009-2010 Chair Elect Metropolitan District Dental Society
2008-2009 Vice Chair & Program Chair Metropolitan District Dental Society
2006-2007 Assistant Secretary to the Metropolitan District Dental Society
2006-2007 Massachusetts Dental Society Leadership Institute - First Class
Secretary 1989 Massachusetts Association Of Women Dentists
Delegate to the Massachusetts Dental Society House of Delegates
Member of the Massachusetts Dental Society Woman's Leadership Task Force
Teaching experience:
Associate Clinical Professor Boston University School of Graduate Dentistry APEX program.
Yankee Dental Convention Lunch and Learn 1988
Boston University round table for female dental students
The Spear Difference - Constantly In Pursuit of Mastering My Practice of Dentistry