Orthodontist in Sudbury - Invisalign Practitioner
Clear Braces … They're Out of Sight!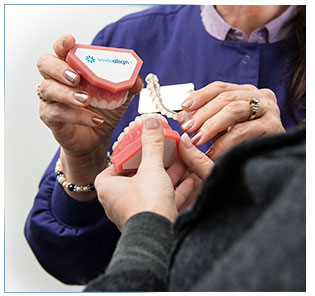 Dental braces have come a long way from the adolescent metal smiles usually associated with conventional orthodontic treatment. Now, there are more aesthetic regular braces materials made of ceramic, plastic and tooth colored wires. But, the biggest innovation for invisibly straightening teeth is Invisalign. This treatment is "braces without braces" that are "out of sight" both figuratively and literally.
What is Orthodontic Treatment?
Both conventional or "regular" braces and clear braces move teeth essentially the same way. Small guided pressures placed on the teeth over months to a year or more depending on the complexity (teeth crookedness) of the case. Old fashioned braces use "glue", wires, springs and rubber bands.
Clear aligners are very similar to the plastic trays used to whiten teeth. They are transparent and fit snugly over the teeth. Depending on the severity of the problem 30 or more aligners are used.
How is treatment accomplished?
Dental consultation with the practitioner
Special 3D dental scanning is completed
A treatment plan is finalized.
Custom aligners are constructed.
Aligners are switched out every week to two weeks.
Aligners are worn 20 to 22 hours per day.
Progress checkups are scheduled.
Upon completion of treatment, a clear retainer is constructed.
A dental consultation, exam and diagnosis are very important first steps as not all types of crooked teeth (malocclusion) can be treated using aligners. Also, correction of any dental conditions such as decayed teeth or gum (periodontal) disease must be addressed prior to treatment.
Research has revealed that patients who cannot commit to wearing dental aligners 20 to 22 hours per day should consider regular orthodontic treatment.


Why Invisalign?
Invisible
No sharp wires or brackets
Special "Smart Track" plastic
Easier to brush and floss teeth than conventional braces
Removable
When can clear braces be used?
Adults compose around 27 percent of the orthodontic patient population. Some of the past psychological and social barriers to adult treatment included:
"Braces are only for kids and teenagers"
Occupational considerations
Affordability
Considered a "vanity"
Appearance of metal braces
"Invisibility" is the main reason why adults choose this option today, but teenagers and children also may benefit from clear aligners as opposed to regular braces especially when appearance is a critical consideration.
Severely rotated teeth
Severely tipped teeth
Teeth with large spacing
Skeletal jaw problems
Extrusion (moving teeth upward)
These exceptions to Invisalign treatment are diagnosed at the dental consultation and conventional braces or other treatment advised at that visit.

Three distinct Varieties of Treatment:
Standard

- For most adults and patients that require entire (full) mouth braces

Teen -For children/teenagers 10-14 years old
Express – For less extensive or minor cases (10 or fewer aligners are needed and treatment time is 6 months or less)
Orthodontics in Sudbury typical costs for treatment are based on the complexity of each case.
Numerous scientific studies have been undertaken that confirm poor dental aesthetics is related to low self-esteem, problematic social activities/interactions and adverse occupational outcomes.
Read more about Invisalign FAQ, and why having straighter teeth improves oral hygiene.
Janice E. Spada DMD is member of the American Academy of Clear Aligners institute.